LIQUID COLORANTS - 4 OZ. BOTTLES
LIQUID COLORANTS - 4 OZ. BOTTLES
---
Product Description
Concentrated liquid colorant.
Dropper cap is included.
4 fl. oz. will color two to four gallons of liquid plastic. Depending on the amount added.

A small amount of colorant added to the plastic will yield a light shade, more will produce a more pronounced color.
Standard colors can be mixed in with either hot or cold plastic.
Fluorescent colors should be added to the plastic before heating.
Colorants must be mixed thoroughly for consistent results.
Placing 2 stainless steel nuts in the bottles will help to mix the colorants when shaken.
(NB) Are non bleed colors
(Changeable) Are colors that appear to change, depending on how they are held in the light.


BLACK-01


ORANGE-05


RED-07



YELLOW-08



WHITE-09


BROWN-12



IRIDESCENT PEARL-13



PEARL-14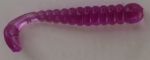 VIOLET-15


BROWN/GRAPE-16


MOTOR OIL-17



INDIGO-20



FLUORESCENT ORANGE-21



FLUORESCENT PINK-22



FLUORESCENT CHARTREUSE-23



FLUORESCENT BLUE-24



FLUORESCENT GREEN-25


SILVER-30


BLUE-32



PUMPKIN-34



EARTHWORM-37



GREEN-38


PURPLE-39



SILVER PEARL-41


WATERMELON-42 ?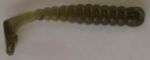 WATERMELON BROWN-43



AMBER GREEN-44


CINNAMON-47



BUBBLEGUM-48



GREEN PUMPKIN BROWN-50


BLUE CRAWFISH-51



STRAWBERRY-52



BABY BASS-53


GREEN CHARTREUSE-55



CHARTREUSE PUMPKIN-56



SILVER SMOKE PEARL-60


BROWN MAYFLY-64


COPPERHEAD-65



CUTTHROAT TROUT-66


GREEN PUMPKIN GREEN-74


---
Find Similar Products by Category
---
Product Reviews
best color ive used

Posted by casey ( RiverSlabCustomBaits) on 22nd Feb 2019

This is my go to colorant, best stufff I've used. Hands down great product

---

different size bottles than I wanted

Posted by JOHN LEMMER on 20th Feb 2019

I ordered 4oz bottles and in some got 2 2oz bottles.
I did not want 2oz bottles

---
---
Customers Who Viewed This Product Also Viewed